The words of artists, publishers, educators, and librarians who participate in our work are the best expression of A.R.T.'s impact. You can find a selection of their statements here.
Luis Camnitzer, 2022 A.R.T. Honoree
November 17, 2022
Reading has been a crucial part of my life from the time I was nine or ten. It was, and still is, an adventure into a different place or time. The novels of Jules Verne, Walter Scott, Alexander Dumas, but also an encyclopedia I read entry after entry. The pleasures of reading have always been connected to the physical qualities of the printed book.
The availabilty of printed books and teaching of reading/writing have been major parts of education, and that we should know how to read is often taken for granted. But there is little discussion of how those abilities are used.
Art Resources Transfer, and their Library Program, for which I am grateful, redistributes books and offers tools for how to use them. This results in the empowerment of the individual in the form of an encouraged, self-aware perception of the world. As soon as empowerment is introduced, the politics around the distribution of power becomes an indissoluble part of the educational process.

— Luis Camnitzer, 2022 A.R.T. Honoree
Passaic County Regional High School, Little Falls NJ 2022
May 16, 2022
"I need to thank all of you at A.R.T. for what you do. My photography students enjoy your books more than you can imagine. They are a great resource for inspiration and I am so thankful for what you do."
MSD of Wayne Township, Indianapolis IL, 2022
April 03, 2022
Nokomis School District #22, Nokomis IL, 2022
January 26, 2022
On behalf of the Nokomis District #22 High School, we would like to send you a HUGE THANK YOU!!!
We live in a very small town with a population of 2,000. Our student population is roughly 650. To give you a visual of the size: We have no stoplights in our town, no grocery stores, 2 gas stations & a Dollar General. Our Main St consists of some small shops & a diner. Our region is very agricultural. We grow soy beans & corn & then it's distributed through grain bins/semi trucks.
Our high school students were absolutely fascinated by the gorgeous art books you sent for us! They handle these art books like they are made of glass. As a book/art enthusiast – it is refreshing to see how much these mean to them also. Staff were excited to see the distinguished art books, various subject matter, & were very impressed with the quality.
Your organization helped bring some of New York, the art world, the idea of combining prose with art, and most importantly – helped students see that thinking OUTSIDE the boxes is great... and WELCOMED by the world! We have students regularly in the library back at the 'New & Improved Art' section now.

Avoca Free Library, Avoca NY, 2022
April 03, 2022
DC Books to Prisons, Washington DC, 2022
January 17, 2022
Thank you so much! ... I am sure that these [books] will fly off the shelves. We get many requests for art books and so few donations that pass through the prison censors' reviews. Thanks for all that you do! You are making a difference in people's lives.
Walid Raad, 2021 A.R.T. Honoree
January 09, 2022
The D.U.C's commitment to books is not only a commitment to writers, makers, designers, and readers; and to the libraries that house, care, and lend books. But it is also a commitment to all margins (physical, social, economic, ideological, sexual, ethnic, cultural, spiritual, etc.) and to what is said and unsaid between lines and images. (1)
(1) "Two things: I seem to be stuck quoting the writer and artist Jalal Toufic whenever I am asked to write. Here I go again, from his book What Was I Thinking: "You can allow yourself when reading a bad writer not to notice many things in the book because neither the writer nor the book registered them. But in a fine book, while the writer may not have noticed them, his or her book would have registered them, that is, they have consequences elsewhere in the book. For example, some things in a fine book will seem arbitrary if we do not take into consideration the literal meaning of figurative expressions, for instance, "dead silence" (in the case of "dead silence" the nonliteral meaning, "complete silence," and the literal one fit well, since the only complete silence, silence-over, which cannot be interrupted by sounds, is encountered or undergone in death and produces a dead stop ["dead: 9. (only before noun) complete: a dead stop", i.e., immobilizes one). One sign that one is dealing with journalism: figurative expressions are used and function almost always only in the figurative sense; in literature when a figurative expression is used, the literal sense too has to be taken into consideration, so if someone is described as more dead than alive, these words do not simply mean "hurt and in a very poor state" (Oxford Dictionary of English, 3rd edition, 2016) —indeed the figurative expression is in a way used mainly to convey in an esoteric manner the literal sense. However poor the health of the resurrected brother of Mary and Martha (who was solely alive since resurrected by the life) might have been at some point prior to his second physical demise, and however hurt Jesus Christ, "the life" (John 11:25), was while on the cross, a great book of literature or religion would not describe either as "more dead than alive." When said about a mortal, three sorts of people would have understood "he was more dead than alive" only in the figurative sense, as "he was hurt and in a very poor state" (A): a journalist/bad writer; a mortal, who is dead while still physically alive, in disavowal of his or her condition; and the disoriented mortal who suspects that he's already "in" the labyrinth and has realized that noticing signs and landmarks would then be not a manner of finding out where he is and avoiding continuing to be lost "in" the labyrinth, but, misleadingly, a manner of getting more entangled "in" the labyrinth, and that he will not leave the labyrinth, which is not simply spatial, by opening some door and walking out but rather by a suspension of interpretation and an eclipse of meaning. "How to Read a Dostoevsky Novel as If One Is Reading a Newspaper?": that could be the title of a workshop I could one day give to those who, most often one or two semesters after attending my seminar on the labyrinth, may rush into my office panicked that they are now discovering in newspapers lower depths and cryptic notes from the underground worthy of Dostoevsky."
And, I can't remember what drew me to paper books. But I do recall being drawn as much to the writings and images within, as to the object itself: its shape, weight, smell, color, form, cover, binding, texture, font, margins, notes, preface, footnotes, bibliography. Used books captivated me as much as new ones, especially if their previous owners marked them in highly personal ways, bending page corners, writing (hopefully something thought-provoking) or drawing between printed lines or on margins. D.U.C's commitment to books is not only a commitment to writers, makers, designers, and readers; and to the libraries that house, care, and lend books. But it is also a commitment to all margins (physical, social, economic, ideological, sexual, ethnic, cultural, spiritual, etc.) and to what is said and unsaid between lines and images." (B)
– Walid Raad, 2021 A.R.T. Honoree
(A) All figurative expressions prove to be literal in one realm or another (death, dance, etc.). It is crucial though, as long as one is aware that they are borrowings from the literal sense, to liberate them as figurative expressions.
(B) Toufic, Jalal. What Was I Thinking? Berlin: e-flux journal-Sternberg Press, 2017. 101-102.

Prison Books Collective Volunteers, Durham NC, 2021
November 26, 2021
Wayne County Public Library, Honesdale PA, 2021
October 06, 2021
... Our library resides in a rural county, with many of our patrons having issues with transportation, finances, and adult literacy. As such, we are always looking for ways to enrich our library, and to find the funds necessary to keep us running for the Wayne County Community. Our staff was thrilled to find out that we could request books yearly through your program.
By allowing us to request the numerous art books available, the Library Program enables us to enrich our community by providing the different perspectives to our patrons. Art books tend to be over budget for our branch, so our collection of art materials is very small. With the help of the art books we have received from you, the selection we have available has grown and expanded its horizons. Our library just recently received our yearly request for titles, which we were glad to add to our catalog. We were especially thrilled at receiving the African American Masterworks Exhibition books. Wayne County is a majority white area, but we are slowly growing into a multicultural community. Diversity is one of the ideals we strive to follow with our library collection, and with your support, we can uphold it.
Our library hopes that the Library Program will be able to continue in the future, as it contributes so much to our collection every year. We will certainly be looking forward to requesting more titles in the coming years.
Covington City Public Schools, Covington VA, 2021
April 03, 2022
Kansas City Art Institute, Kansas City, MO, 2021
February 26, 2021
... Thanks to the Library Program, our library was able to add 23 books and exhibition catalogs to our collection at no cost. We would not have acquired these items without your program. We found your service to be excellent and we appreciate that you even pay for shipping.
KCAI is a four year college of art and design in mid-town Kansas City. Because the library budget is tuition driven, our funds are limited and we must be very selective in our book purchases. You allowed us to add extremely relevant books to our collection that will be enjoyed by our students, faculty and our neighborhood community for years to come. The items will be used for research, inspiration, and enjoyment by our diverse community of patrons. We truly appreciate your efforts.

Haverstraw King's Daughters Public Library, Haverstraw NY, 2021
January 26, 2021
Just a note to thank you for the Library Program. We have twice ordered art books through the program, and one time participated in the Poulin Project. Both of these programs have been beneficial to our organization.
Many art books are published in conjunction with exhibitions; when the exhibitions end, the distribution channels for the associated books are reduced. It's good to know that, rather than being discarded, art books are made available to educational institutions including libraries.
Haverstraw is a diverse community of 37,000 located in Rockland County, New York. Art books can be expensive and don't have large circulation numbers, so the ability to expand our collection at no charge is greatly appreciated. It's particularly satisfying to be able to acquire volumes that highlight the accomplishments of women artists and artists of color.
Poetry is another area with relatively low circulation, so HKDPL doesn't order much of it. The Poulin Project box that we received allowed us to add numerous poetry books to both of our locations free of charge. The library also added several fiction titles to our catalog. Thank you again for the valuable work you're doing.
CVW Long Lake Public Library, Long Lake NY, 2021
April 03, 2022
Studio K.O.S., 2020 A.R.T. Honoree
December 02, 2020
'Books are a central part of our collective's unique practice. This is why it has been so important for us to partner with Art Resources Transfer. We carefully dissect books both physically and metaphorically. We visualize the characters in the stories, that's the easy part. The characters are suspended in timelessness, ready to be plucked by the generations in ways not anticipated by the author. In essence, we have a séance of sorts with authors and we build visual allegories that reflect that communion. That's a metaphor for what good art is. Good art transcends generations, race, socioeconomics and gender, and also offers something to whomever is ready to receive it. Thus, it allows one to bring their own experiences to the table.

Hunter Tannersville Central School District, Jefferson NY, 2020
November 23, 2021
I just wanted to take a few minutes to express my gratitude for the book donation to our school district. I have shared the books with both our Art teachers within the district as well as added books to both our MSHS Library and our Elementary Library. The art teachers were overwhelmingly grateful! I do feel these new books will enhance our collection. I myself are very grateful to be able to share these donations with them to build their classroom collections.

Patagonia Public Library, Patagonia AZ, 2020
December 16, 2020
My small, rural library looks forward to the art books from the DUC program every year. We love having access to books that we probably wouldn't be able to purchase otherwise and we enjoy the enrichment that new artists and mediums bring to the collection.
Indiana Tech, Fort Wayne IN, 2020
August 27, 2020
We sincerely appreciate your program. These books will complement our campus art collection and our art gallery, which is coordinated by the folks at the Fort Wayne Museum of Art and features works from FWMoA. The current campus exhibit is a component of our Black Lives Matter programming. Our gallery is in the same building as the library and both are open to the public.

We have paintings, prints, photographs, and sculptures throughout campus (in a curated collection) and will use these art books as part of our efforts to promote the arts to the greater Fort Wayne community.
Walking Books Library, Appalachia North ME, 2020
February 22, 2020
We're so looking forward to ordering more art books to lend to our readers from y'all. Thanks so much for all y'all do to make such wonderful materials available. This past year, they were used by various readers including those in elder housing, the teen shelter and LGBT teen outreach. We have started getting donations of small prints and artist notecards to inexpensively frame so we can lend them out as well. You inspire a lot of ideas here.
United ARTS Resource Library, Albuquerque NM, 2019
March 25, 2019
Maddock Community Library, Maddock ND, 2019
October 18, 2019
Gouverneur Correctional Facility, Gouverneur NY, 2019
March 20, 2019
Murray High School, Murray UT, 2019
October 03, 2019
Walking Books Library, Appalachia North ME, 2019
April 25, 2019
Dear Art Resources Transfer,

Thank you so much for the beautiful books! They are going to make people so happy.

Walking Books Library is teeny tiny so we have the flexibility to develop access to books individually. There are already two ladies in elder housing who are looking forward to them. I think we will drop about five art books off each month that they can share between them and with other residents if they take an interest also. That way they can go through the whole collection you sent us in a year without having to leave home. For the teen homeless shelter, I think I am going to take the art postcards you sent and put them in plastic sheets in a binder. I want to find something they can take for free at the same time (we were first known for our free, new books). Maybe ziplocs with postcard sized paper and some art supplies they can take on the go? I will percolate on this. The Wegman dog book and the book on various flags will be very good for people who aren't sure they like art. We are very rural here so sometimes arty things can feel off-putting to some people. Besides the places mentioned, your books will be accessible to low income people within a thirty mile radius of my village. This includes trailers, cabins, and old farmhouses that I walk books to each month (thus Walking Books Library). People can also call ahead and drop by to get books (I run it out of my trailer).

Your donation is reaching a lot of people who work hard but may have had too much life going on to finish high school or go to college or who may feel uncomfortable visiting a traditional library or bookstore. We don't require forms or library cards and work by trust and also joyfulness. Your donation did not add to our art section, it allowed us to START one. You have made a huge impact here both on me personally, my village and the surrounding communities. We thank you.
— Kelly Serns Walking Books Library East Dixfield, ME
Huttonsville Correctional Center, Elkins WV, 2018
March 12, 2018
Dear Art Resources Transfer
How can I thank you properly? I hope this letter helps in some small way. First, I have a BFA from the Maryland Institute of Art in Baltimore. I am an artist and librarian so I love art and books, so your program i invaluable to me and the populations I serve. As former director of a small public library in Appalachia, I received several shipments of boxes of books from Art Resources Transfer. I loved introducing people in a remote and rural community to contemporary art and images through these books. Our budget was tiny so buying these books would not have been an option. Also, for people in a rural area it is difficult and time consuming to travel to an actual art museum or to see an exhibition of art. A favorite interaction came from a regular patron who picked up a book of art photographs. There are no words in this book, what is the purpose!? He had really never encountered a book that featured fine art photography so we had the opportunity to talk about art books, contemporary art, and fine art photography. I don't think I gained a lot of ground here but it was still a good conversation. Now I work as a prison librarian in the Baltimore/Washington DC suburbs. I work with male inmates, many of whom have been incarcerated for decades. Many of them have never been to a museum or art gallery. The books provided by Art Resources Transfer allow these men a window on the art world. Especially for inmates who are unable to read or have literacy issues, they enjoy having books with images to enjoy. Anything new and visual is welcomed in a prison


I know my library patrons love having the opportunity to enjoy these books. It is such a pleasure to be able to provide these books via A.R.T. Thank You!
Wishing all of you the very best,

Mary Rayme Prison Librarian Baltimore, Maryland
Eisner Pediatric & Family Medical Center, Los Angeles CA, 2018
November 28, 2018
Statesville High School, Statesville NC, 2018
October 12, 2018
Coffee Middle School, Douglas GA, 2018
November 08, 2018
The students in the art department at Coffee Middle School in Douglas, GA are so appreciative of the titles that were donated through the Distribution to Underserved Communities Library Program. Through this program, students in our rural community can have exposure to art and artists that they may not have had otherwise. Thank you so much for this wonderful opportunity!


Scurry County Library, Snyder TX, 2018
November 14, 2018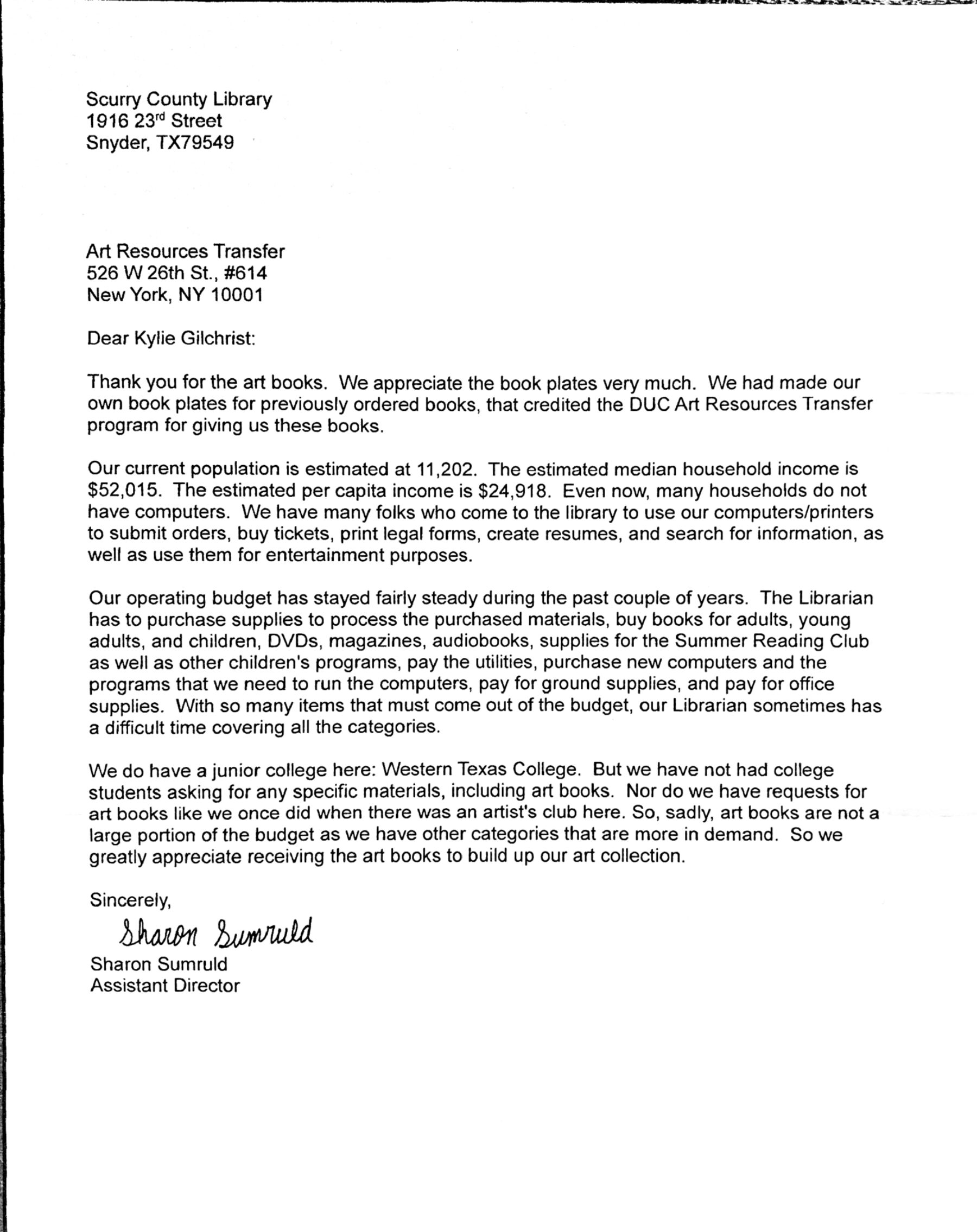 Barbara Jordan Elementary School, Austin TX, 2018
May 08, 2018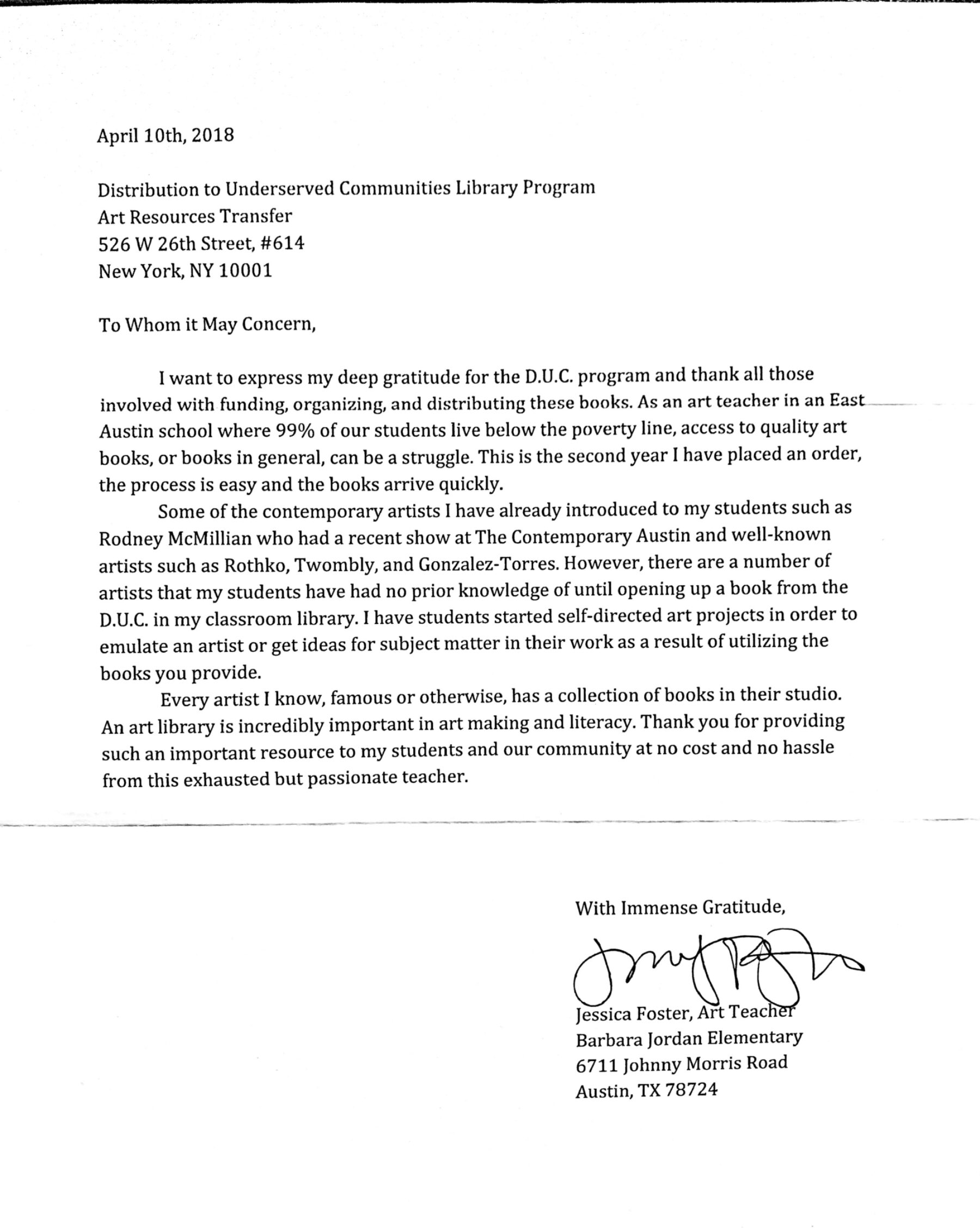 San Quentin Arts in Corrections, San Quentin CA, 2018
July 07, 2018
Licia Mason Beekley Community Library, New Hartford CT, 2018
March 23, 2018
Roni Horn, 2018 A.R.T. Honoree
November 19, 2018
Books were my first experience of travel. Reading one, especially the right one, was taking a holiday. Books were an easy connection to the world around me, and the one I imagined beyond me as well. The New York Public Library, specifically the 42nd street and 5th avenue location was my first studio in the city. I went there almost daily and stayed most of the day. My work brought me in contact with a group of highly trained reference librarians. In fact it was in the reference room that I spent most of my time. It was the hub. And a good reference librarian, like a knowledgeable guide in unfamiliar territory—like Sacajawea with Lewis and Clark during their travels around the continent—she helped find the way to the destinations sought. It was where I accessed ideas, techniques and resources. During the many years that have followed since then I put together my own library. It's the most important room and resource in my studio now. It is quality of life, it is shelter, and especially important, it is adventure. I am excited and honored to be a part of the ART program. In extending this practice to places of education and need, Art Resources Transfer provides a sure route to adventure and the most likely way to future invention for many, perhaps for all of us.

Elizabethtown Library, Elizabethtown NY, 2017
July 25, 2018
Dear Board of Trustees:
As Library Director for a small rural library in upstate New York the receipt of the books from the Poulin Project has been a wonderful addition to our collection. Located in one of the poorest counties in the State of New York, and having a very limited budget for book acquisitions, the books received in Art and Poetry gave an additional enriching and educational level to our shelves. We work with many special need adults and seniors, many of whom share a love for books and especially art. These books have given visual inspiration to create and as a result we have several originals displayed from prose, to watercolor and graphic design. Our sincerest thanks for including our little library in this special and generous project. We hope to be included in the years to come in our mission to serve, educate and enrich our community.
Sincerely, Angela Heroux Library Director Elizabethtown Library, 2017
Brandywine Heights Area School District, Mertztown PA, 2017
September 19, 2017
Northwest Regional Library System, Thief River Falls MN, 2017
July 03, 2017
The Northwest Regional Library System greatly appreciates all that Art Resources Transfer D.U.C. Library Program does for our art collection. We have participated for three years – and it's allowing us to build an art book collection that would otherwise not be possible due to the high cost of art books.














Mill Central School, Milford NY, 2017
June 21, 2017
Lawrence Weiner, 2017 A.R.T. Honoree
January 15, 2018
Will Rogers College High School, Tulsa OK, 2016
March 09, 2016
Gordon-Nash Library, New Hampton NH, 2016
February 01, 2016
Elgin Public Library, Elgin ND, 2016
March 04, 2016
Glenn Ligon, 2016 A.R.T. Honoree
January 09, 2022
The D.U.C. does great work to ensure that books on arts and culture reach a wide audience in public schools, libraries and prisons across the United States. The value of books was instilled in me early on and I am honored to be involved in a program that distributes books and promotes reading. Books open up the world, making it accessible in ways it wouldn't otherwise be. A book is a journey to somewhere else.

Inglewood High School Library, Inglewood CA, 2016
January 13, 2016
Grand Marais Public Library, Grand Marais MN, 2015
October 05, 2015
I placed an order for several books and am really looking forward to getting them. I received good feedback on those ordered last year - I particularly remember a patron who pulled me aside to thank us for obtaining one of the books, Between artists. Our community is a small arts community, and I like to feed that part of their soul as much as we can. Your program makes it possible for us to feature items we otherwise could not afford, nor even recognize as potential titles without D.U.C. Thank you.
— Steve Harsin, Grand Marais Public Library, Grand Marais MN, 2015
Martha Rosler, 2015 A.R.T. Honoree
January 09, 2022
I greatly appreciate the work that D.U.C. is doing to make sure that public schools, libraries, and prisons are provided with books and materials that otherwise might be impossible to obtain. Few resources are more rewarding for individuals—or more important to a functioning democracy—than access to history, literature, and currents of thought. A library includes not simply volumes on shelves but also the people drawing from those volumes, reading and organizing knowledge, individually and collectively. Reading can make you powerful, but let's not forget that it can also open your mind to infinite pleasure.

Community College of Rhode Island, Newport County RI, 2015
April 21, 2015
Tan Siu Lin Palau Community College Library, Koror, Republic of Palau, 2014
April 18, 2015
Decatur High School, Decatur AL, 2014
April 21, 2015
Ignacio Community Library, Ignacio CO, 2014
April 21, 2015
Gordon-Nash Library, New Hampton NH, 2014
April 21, 2015
Milford Central School, Milford NY, 2014
April 21, 2015
Shandon High School, Shandon CA, 2013
April 21, 2015
Orchard Gardens K-8 Pilot School, Roxbury MA, 2013
April 21, 2015
Swan Valley High School, Saginaw MI, 2012
April 21, 2015
Pittsylvania County Public Library, Chatham VA, 2012
April 21, 2015
East Iberville School, St. Gabriel LA, 2012
April 21, 2015
Covington I.S.D., Covington TX, 2012
April 21, 2015
Cambridge Springs Public Library, Cambridge Springs PA, 2012
April 21, 2015