X
Maxine Henryson on I-DEA, The Goddess by Hunter Reynolds
Maxine Henryson on I-DEA, The Goddess by Hunter Reynolds
For over 25 years, Hunter Reynolds explored issues of gender, sexuality, HIV/AIDS, politics, mortality, and rebirth through performance, photography, installations, and his alter ego, Patina du Prey. His work is directly influenced by his own lived experiences as an HIV-positive gay man in the age of AIDS. As a member of Act-Up (Aids Coalition to Unleash Power) and a co-founder of Art Positive (an affinity group fighting homophobia and censorship in the arts), he used his work to spread a message of survival and hope.

Reynolds collaborated extensively with Maxine Henryson, a photographer and bookmaker whose work explores place, geographic space, and the search for cultural interconnectivity. From 1993 to 2000, Henryson and Reynolds traveled to Berlin, Antwerp, Los Angeles, New York and other cities, creating guerrilla-like street performances and interventions, now documented in a new artist book I-DEA, The Goddess Within, published in 2022 by Visual AIDS.

Comprising 54 iconic selected color photographs and diary text, I-DEA, The Goddess Within documents the historic collaboration between Henryson and Reynolds, aka Patina du Prey. Spinning in a large white dress, Patina existed as a mythical dervish figure that deliberately disrupted gender norms in order to relate to the viewer as a shamanistic transgendered embodiment of fantasy and healing. The street actions of Henryson and Reynolds were guerrilla-like — unannounced and confrontational in nature. Henryson, with the camera, and Patina du Prey, as the dervish transgendered figure, communicated kinesthetically like satellites as the world passed between them. As a photographer Maxine Henryson worked conceptually and intuitively to create both a document and a poem, challenging notions of queer identity, performance art, and the social landscape of the 1990s.

A.R.T. is pleased to distribute I-DEA, The Goddess Within through the A.R.T. Library Program. To supplement the text, A.R.T. Notes offers Henryson's reflections on Reynolds, as Patina, in the process of their collaborations.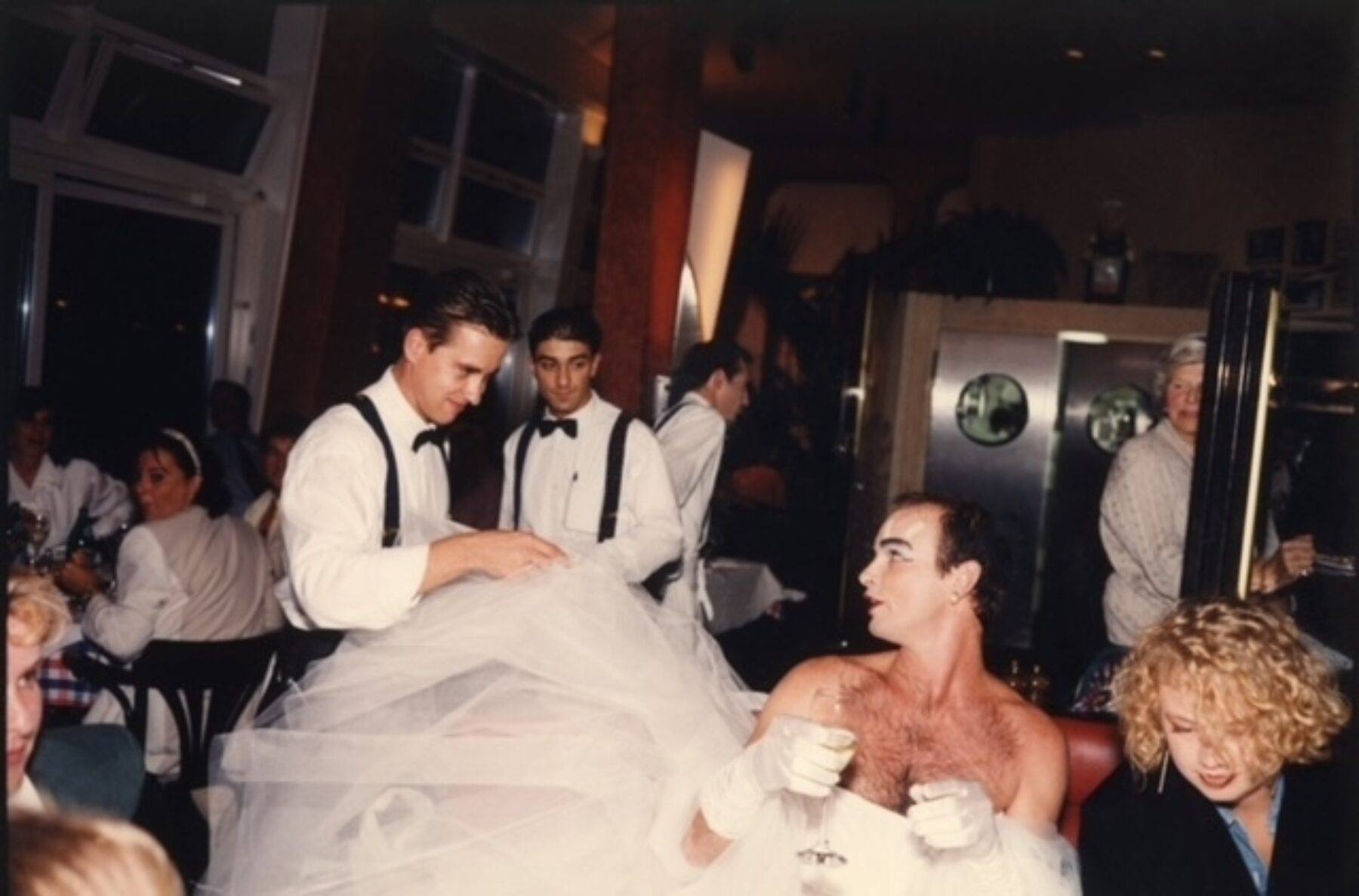 People ask: why do you think you and Hunter were so simpatico in your eight years of collaborating together. I don't have the specific answer, but I think to myself: maybe because we were both Leos. Hunter and Patina (Hunter's alter ego) were the flamboyant Leos and I the quiet one. We were all comfortable doing guerrilla street performances, but for different reasons. Hunter was interested in performing for the people on the street and I was interested in photographing the people's reactions to Patina and the social landscapes. We collaborated on all aspects of creating the pieces.

In the summer of 1995 we went to Yaddho and shared a studio. There we worked with copies of the contact sheets, cutting them up to create mock-ups of our wall pieces. That September we showed the wall pieces in Usdan Gallery at Bennington College.
At that point, in the early years of our collaboration, Hunter was still performing as Patina using a full bodice and make-up. Patina is another reason that our collaboration worked. Patina represented the third gender as she was both male and female and the female aspect was very important to me. Believing that we all have male and female aspects, I was better able to identify with Patina. She had so-called "female issues" of her feet hurting from performing in high heels, forgetting her make-up kit, wanting to be seen as attractive, but then suddenly becoming moody if paid too much attention.

We were in Hamburg, Germany and the curator we were working with thought it would be a great idea for us to do a guerrilla street-style performance at a fancy restaurant along the river. Two things happened which showed the two sides of Patina. The restaurant was on the waterfront, which was a favorite spot of sex workers. We arrived, parked the car, and Patina immediately wanted to go hang out with the sex workers and skip the restaurant performance. The curator was not happy with Patina and insisted that we go in the restaurant, where of course all of the elite were dining. Patina sulked, headed for the bar and turned her back on the diners. In this situation, too much attention was shutting down her interest in performing. Patina's response was, "they all look like my mother. I feel like I am in a room full of my relatives."

During the early performances, it was the height of the AIDS epidemic and Hunter was HIV positive. There was an urgency to our collaboration and the performances were directly linked to Hunter's Memorial Dress Project, where he had inscribed the names of hundreds of people who had died from AIDS. Hunter's activism was very genuine and heartfelt. Sometimes during the performances he would signal for me to stay back and give him space because he wanted to feel free to go into a trance. His spinning and "doing the dervish" was an intense form of meditation where he was directly channelling energy. As these moments became more a part of Hunter's performances and as he became more shamanistic, aspects of Patina started disappearing. And in our last performance in the streets and landscape of Banff, there was no bodice, no makeup, no high heels. Although he continued to interact with people on the street, he became more attuned to nature and intent on channelling spiritual energy.

After his strokes, Hunter was no longer able to do the dervish street performances and he began doing another kind of performance he called "mummification" performances. Although I photographed some of the mummifications, essentially our collaboration ended when Hunter could no longer do the street performances. From the beginning, Hunter and I wanted to create narratives of our performances in a book. We did several dummies over the years. It was only in January 2022 that Hunter's health became a serious issue and we realized that if we didn't act to create a book that we would run out of time. As I worked on the edit of the images and gave material to Pascale Willi, our book designer, I kept Hunter informed at every step and he gave his input. In his last weeks, Hunter was aware that we were getting close. He was very excited that finally a book of the project was going to be published. Julie Ault who wrote the introductory essay, Pascale Willi, Hunter, myself, my assistant David Perez and Hunter's caretaker Conrad Ventur were a great team. We worked very intensely through the spring and Hunter was able to see the final pdf of the book before he passed on June 12. The book arrived from the printer two weeks later.